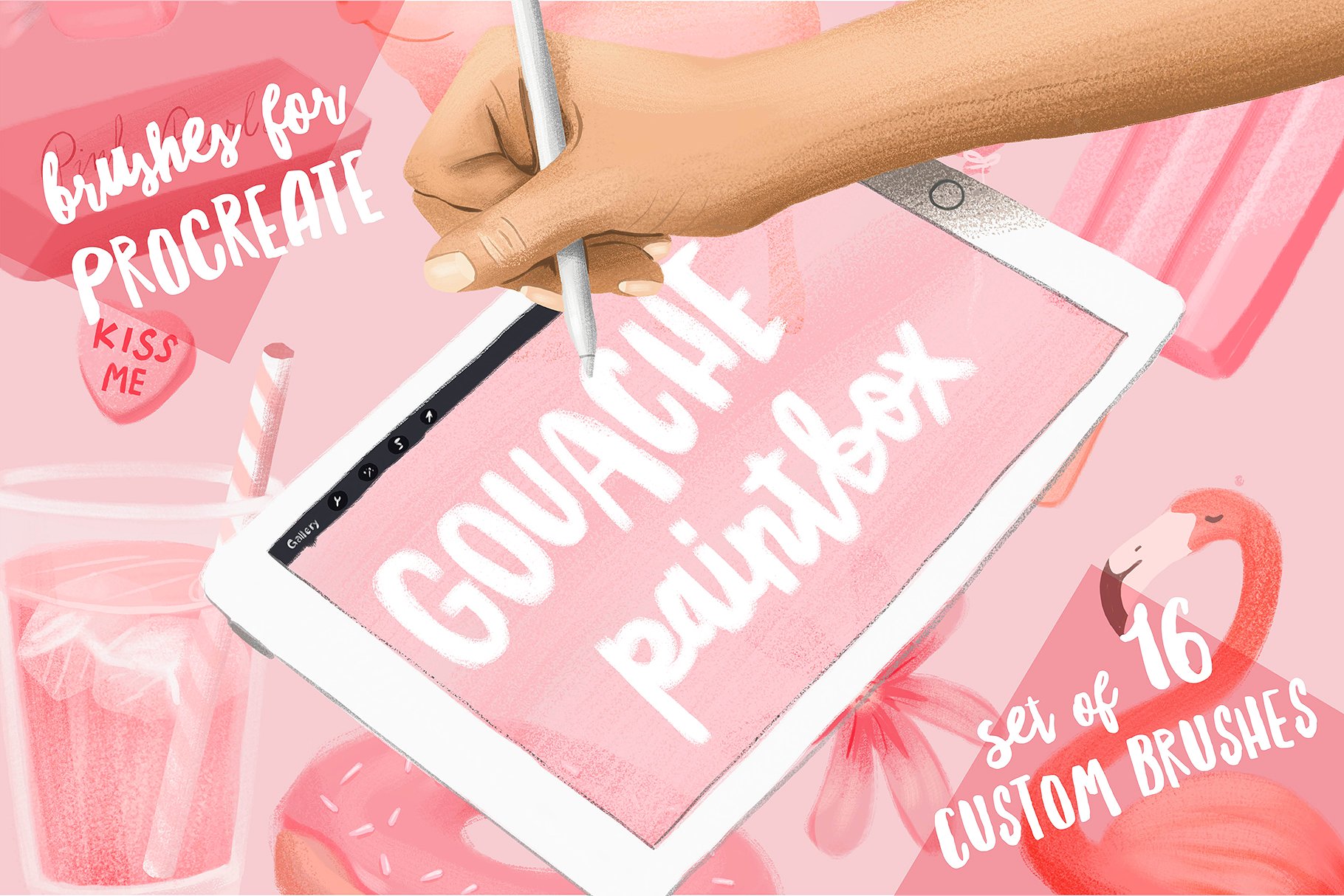 Gouache Paintbox for Procreate by Lisa Bardot
Lisa has always been in love with the artistic style of Mary Blair and other midcentury illustrators and artists, she created this set of gouache brushes to replicate that unique style. These illustration brushes feature loads of randomized texture to give the effect of real gouache paint on a brush. Brushes have built-in inconsistencies, resulting in a very natural, hand-painted look. They have been optimized for use with the Apple Pencil, with special sensitivities to pressure and tilt. These brushes are some of the most versatile Procreate tools available and are perfect for illustration, art, and hand-lettering.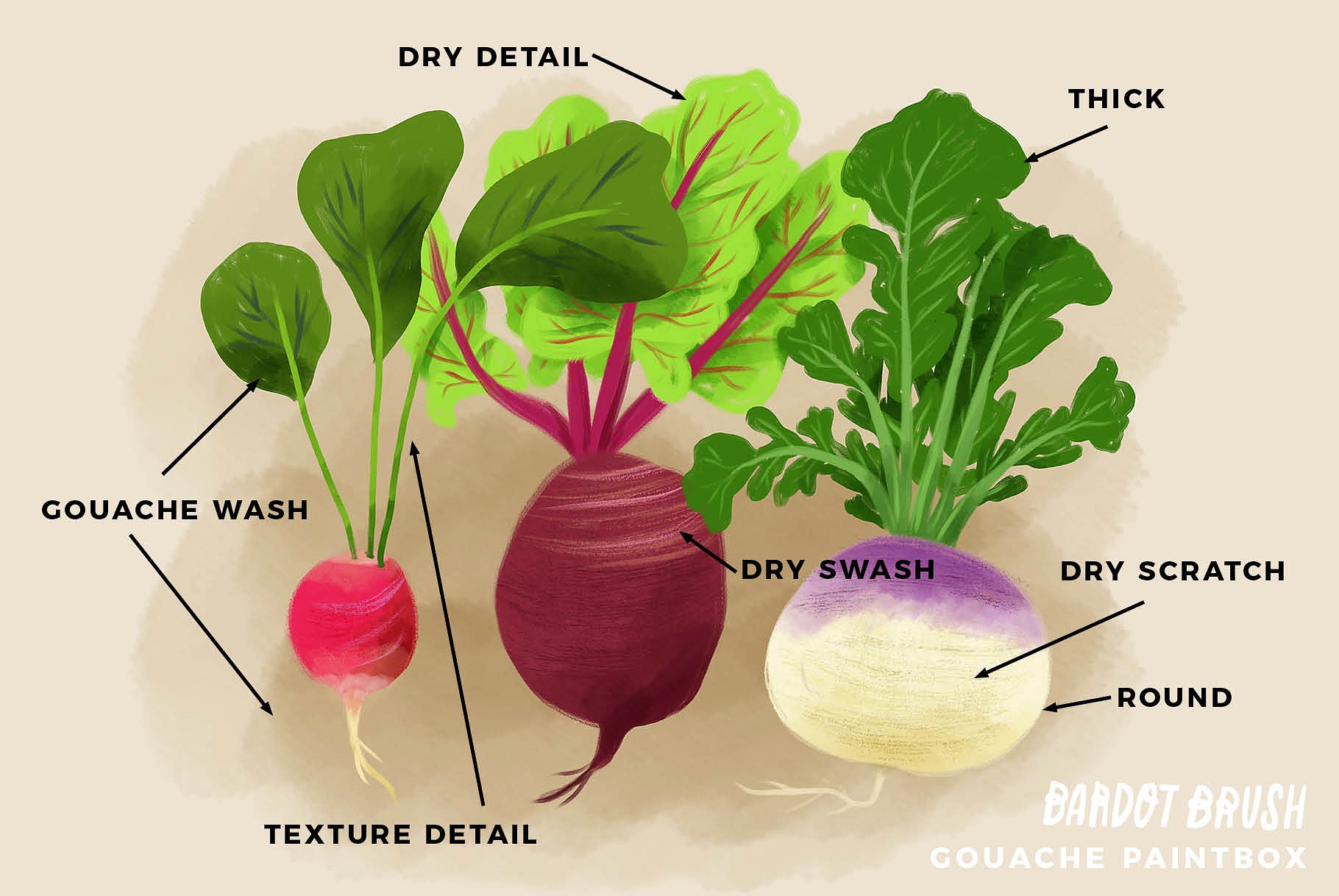 BRUSHES
Bardot Gouache Wash – Achieve the look of watered-down gouache, to create a look similar to watercolor. Slowly build up color intensity with pressure and layering. Use for backgrounds, making texture and more. Overlay multiple colors to mix and create new ones.
Bardot Gouache Thick – A solid brush with smooth edges, great for filling in large areas of color. Draw lightly to produce a sketchy look.
Bardot Gouache Watery – Wet blending round brush, great as a filler or smudge tool.
Bardot Gouache Wet Edgy – Rough edges and with "wet" look. Watch colors mix and smear as you draw.
Bardot Gouache Round – A great all around brush with just enough brush texture plus dry fuzzy edges.
Bardot Gouache Dry Round – Round brush with loads of dry texture.
Bardot Gouache Detail – A thinner version of the "Thick" brush. Smooth and great for fine details.
Bardot Gouache Texture Detail – My favorite for adding line details, subtle texture with perfect pressure responsiveness.
Bardot Gouache Dry Detail – A wispy, dry detail brush for when a little more texture is desired. Tilt the Pencil to get an even drier look.
Bardot Gouache Dry – A favorite for adding texture and shading to paintings. Produces that signature "dry brush gouache" look.
Bardot Gouache Super Dry – A lighter dry brush look than the "Dry" brush.
Bardot Gouache Dry Swash – A thick streaky accent brush.
Bardot Gouache Dry Scratch – Accent brush that is light and very dry.
Bardot Gouache Dry Toothy – Accent/shading dry brush with a toothy paper texture.
Bardot Gouache Texture Dark – Add a gouache-painted paper texture to flat areas of color for extra dimension and realness. Use this brush to add the dark texture tones…
Bardot Gouache Texture Light – …and then this one to add the light tones.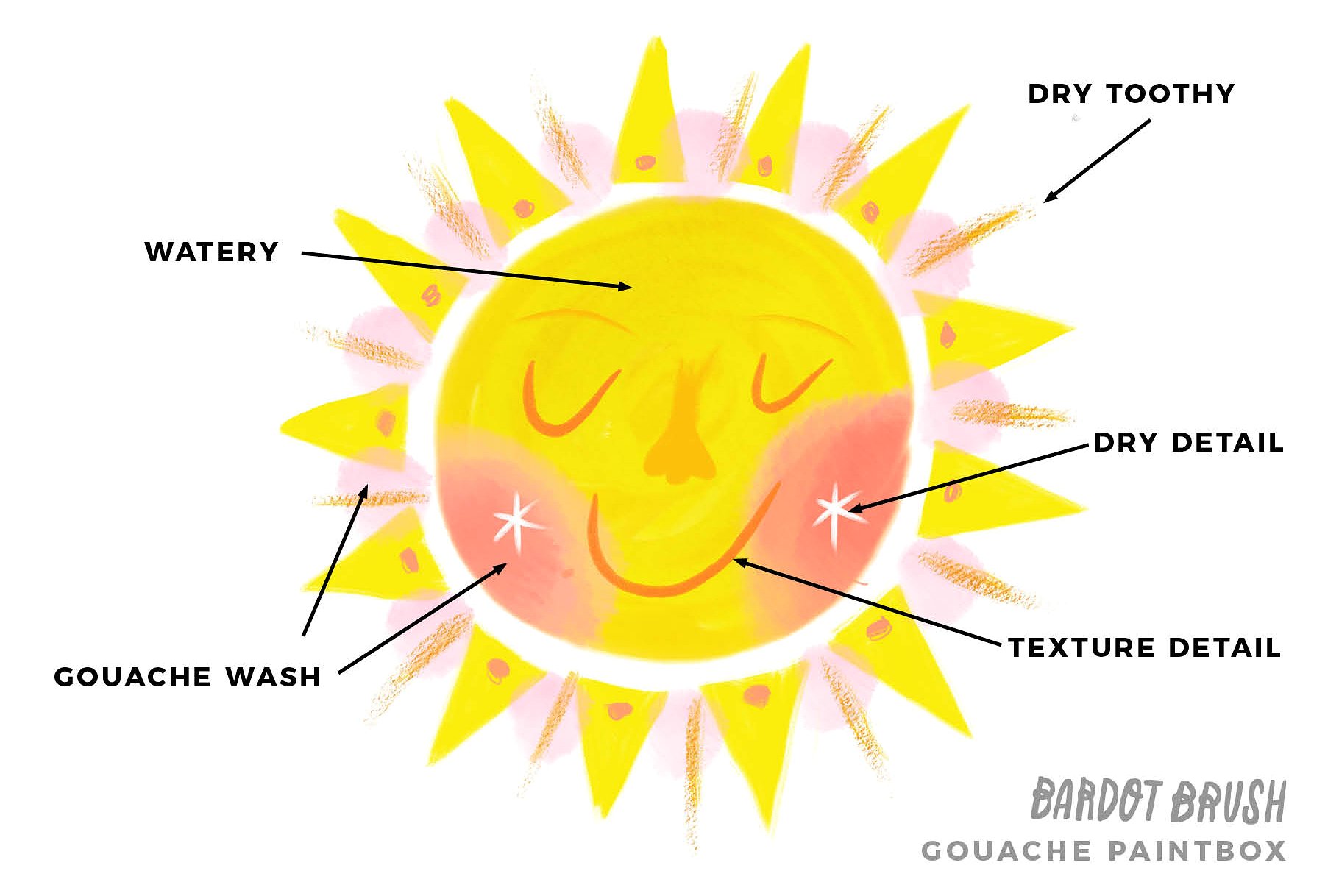 get Gouache Paintbox for Procreate by Lisa Bardot here